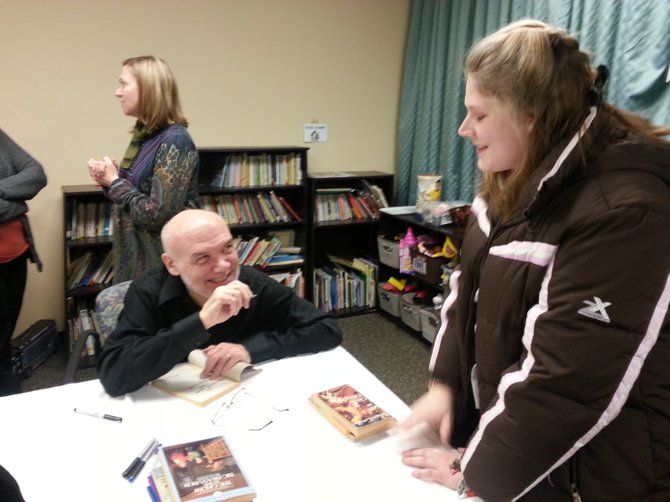 DeWitt — On Jan. 24, the Jewish Community Center in Dewitt was transformed into a world of unicorns, wizards, and dragons. Nationally- renowned local author Bruce Coville and his team of voice actors from his audio book company, Full Cast Audio, each took on different roles and read aloud short stories for a full auditorium. From preschool age children to elderly couples, the event was a hit for readers of all ages.
Since Coville started the company in 2001, Full Cast Audio has employed hundreds of actors from the Central New York community. He brought along three of them for this event- Carmen Viviano- Crafts, who has been doing audio for Coville for nearly 18 years, and Terry LaCasse, who is the director of Adult Programming at the JCC were the two other Syracuse residents taking the stage.
Coville also brought along New York Times Bestselling author Tamora Pierce, whose creaky old- lady voice proved to be a hit in the packed auditorium. The group read passages from works by both Coville and Pierce to a mesmerized audience and stuck around afterwards to meet fans and sign books.
Coville grew up in the 1950s just outside of Phoenix, NY. He says he knew he wanted to be a writer since he was in sixth grade, when he failed writing for most of the year. That may sound discouraging to some, but Coville explains that the reason he failed was because his teacher always assigned her students to write about what she wanted them to write about. At one point during the year, she gave them an assignment to write a short story about whatever they wanted.
"And that's when I took off running" Coville said with a smile.
Since he was 14, Coville had been thinking about seriously becoming a writer. He taught himself how to use a typewriter and at 17, sat down to write a short story.
(Continued on Next Page)
Prev Next
Vote on this Story by clicking on the Icon