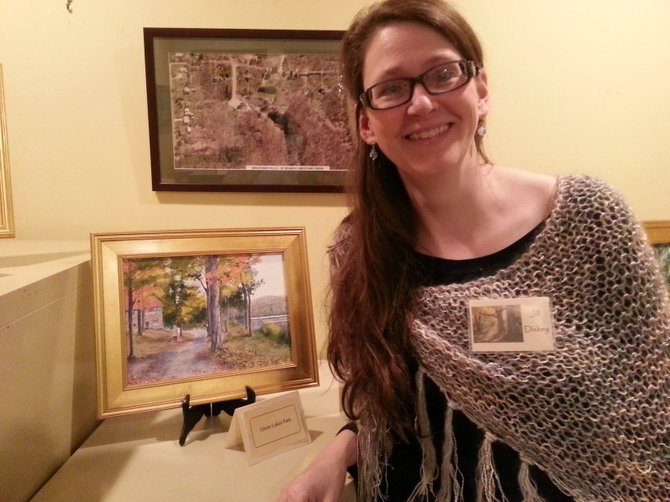 Manlius — Jill Dickey finds inspiration in the places she knows best. And that's why many of her paintings are of landscapes around Central New York. Dickey, a Fayetteville native, prefers to paint scenes right here in the Eastern suburbs of Syracuse because she feels a special connection to the area.
"I think when you paint something you know, it somehow comes out differently," she said. "It's more personal, because you have a connection to the spot. So if you've spent time in a place, I think the painting is more interesting."
Dickey graduated from F-M in 1986 and after she completed her studies in art at Nazareth College, she returned to the area and hasn't found a reason yet to leave. During college, she found a job working in a local frame shop. Right around the time she graduated, a full time position opened up and she began her career as a framer. Eventually, she worked her way up to a management position, and then in 1996, she opened the Rose Cottage in Fayetteville. Her store does custom picture framing and has a gift shop and Dickey said she couldn't be happier about the success she's had in Fayetteville.
During this time, she stopped painting for a while and once her business became more established, she dove back in. Dickey considers herself an artist as well as a businesswoman- and considers her business to be an "artistic expression"- she sells some prints and originals of her work right in the shop.

She began painting landscapes from Kennebunkport, Maine – a town she visits each summer for vacation. But recently, Dickey realized that there was a plethora of great scenes right around here that she felt a connection to.
"I thought, 'Jeez, I should look locally, there's all these gorgeous landscapes right here!' Which is what I want to focus on – landscapes. I feel drawn to landscapes but I don't know why."
(Continued on Next Page)
Prev Next
Vote on this Story by clicking on the Icon