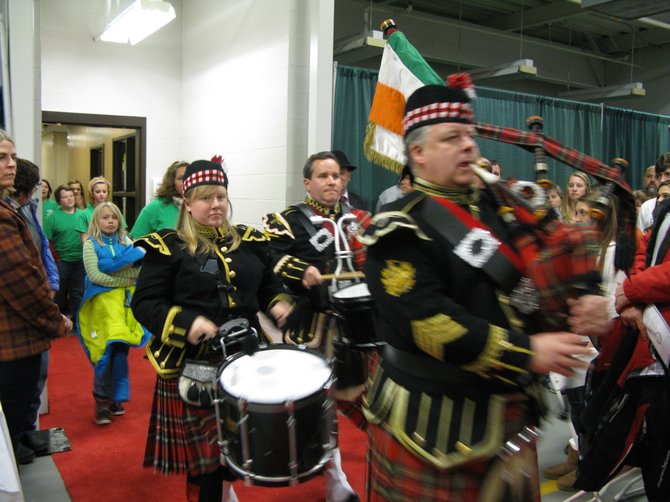 Minoa — The small village of Minoa doesn't always get the recognition it deserves, but on the evening of Jan. 25, it was finally Minoa's time to shine. A crowd of over 400 people packed the village's Municipal Building to both look back and remember the bravery and perseverance of the residents of the past and also to appreciate the hard work and innovation of its current citizens that make the village great.
The celebration began at 5 p.m. when the public was invited for a Minoa "open house" at the Municipal Building. Visitors were able to view displays by the village's departments- the Court, DPW, Library, and Historical Society each had something set up. There were various residents entertaining the crowds with live music as they viewed artifacts and pictures from Minoa's early days. A handful of local businesses had displays set up as well. And finally, the USPS Minoa postmaster was on hand with a specially designed postmark stamp to commemorate Minoa's 100th birthday.
At 7 p.m., the birthday party really got started as all 400 guests were ushered into the fire house for a formal ceremony. It began with a procession led by the City of Syracuse's Highland Pipe Band and was followed closely by the Minoa Volunteer Fire Department's presentation of the colors. After drum major Drew Ellis sang the national anthem, the show was really underway.
There were many familiar faces at the event to issue proclamations and congratulate the town on its historic achievement. Congressman Dan Maffei and Senator John DeFrancisco were the first to issue proclamations. Maffei recalled the bravery of the women in early Minoa- who joined together in 1913 (seven years before women had the right to vote in presidential elections) to vote for Minoa to be incorporated that year.
"This town was a leader- a leader in women's suffrage- giving women the right to vote. And what they voted for was to have this great village" he said.
(Continued on Next Page)
Prev Next
Vote on this Story by clicking on the Icon