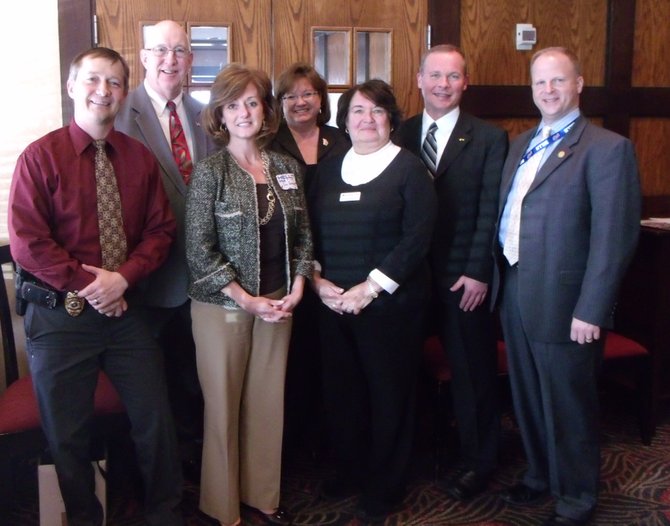 Fayetteville — Twenty members of the Greater Manlius Chamber of Commerce gathered for a "lunch and learn" at Limestone Grille in Fayetteville. Members from the financial, construction, business management and small businesses learned about the DHS STC Campaign, InfraGard's Alliance and asked questions along with the FBI – Mike Dubois, SSRA, Manlius Police Department Captain Brian Ackerman and Minoa Mayor Dick Donovan. The keynote speaker was Laurie Venditti, President of the Syracuse InfraGard Alliance.
InfraGard is a national membership organization in partnership with the FBI with over 50,000 'like minded' security professionals who are subject matter experts involved with the protection of the 18 critical infrastructure sectors in our National Infrastructure Protection Plan (NIPP). Beginning this month, InfraGard has partnered with the Department of Homeland Security for the community outreach effort of the national Stop.Think.Connect Campaign. The Greater Manlius Chamber meeting is one of the first InfraGard Meetings held in the nation. More meetings are being planned throughout the US this year.
The Stop.Think.Connect.™ Campaign is a national public awareness effort to guide the nation to a higher level of Internet safety by challenging the American public to be more vigilant about practicing safer online habits. The Stop.Think.Connect. Campaign's overarching goal is to help Americans understand not only the risks that come with using the Internet, but also the importance of practicing safe online behavior.
To understand and practice cybersecurity, individuals must be able to recognize risks, threats, and vulnerabilities that exist online and their impact at a national and individual level. To learn more about the risks and receive cyber tips, visit dhs.gov/stopthinkconnect.
Vote on this Story by clicking on the Icon