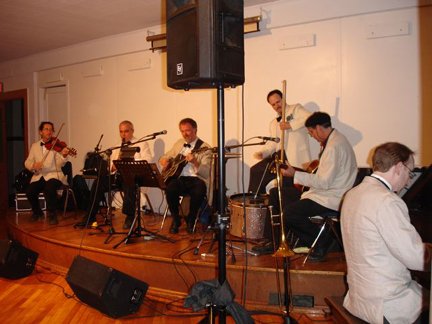 SYRACUSE — The Ithaca-based Gypsy swing combo known as Djug Django will perform at 8 p.m. Saturday, March 9, at the Westcott Community Center, 826 Euclid Ave., on Syracuse's East Side.
Djug Django's core members – fiddler Eric Aceto, guitarist Dave Davies, clarinetist Brian Earle, guitarist Doug Robinson and bassist Jim Sherpa – will play Gypsy jazz a la Stephane Grappelli and Django Reinhardt.
The repertoire focuses on jazz-oriented tunes such as "Djangology," "Jitterbug Waltz" and "You're the Cream in My Coffee." But Djug Django also plays Dixieland standards such as "Bourbon Street Parade" and Latin numbers like "Besame Mucho."
In reviewing a recent Djug Django performance for the Jazz Appreciation Society of Syracuse, Jazfax writer Pat Carroll praised the group as a "one of the best bands that has ever played for JASS." Carroll was especially impressed with the combo's "rock steady rhythm" featuring guitarists Doug Robinson and Dave Davies (who doubles on trombone) and Syracuse native Jim Sherpa on washtub bass.
The reviewer singled out the solos of fiddler Eric Aceto as "effortless and relaxed, the hallmarks of the best jazz practicioner." Clarinetist Brian Earle remained "Mr. Reliable."
Whether they're trading solos, improvising, or just flat out swinging, the members of Djug Django clearly enjoy playing together. They display a sophisticated musicality and creativity that has pleased audiences throughout the region. The band performs a weekly session which attracts an enthusiastic crowd of swing dancers every Wednesday evening at Lot 10 in downtown Ithaca.
The March 9 concert at the Westcott Center is presented by the Folkus Project of CNY. Admission costs $12 for WCC members, $15 for others; 428-9909.
For band info, visit watershed-arts.com/djug.html.
Vote on this Story by clicking on the Icon