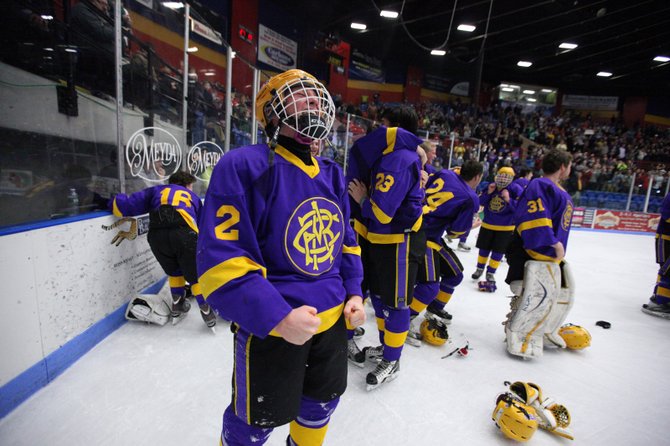 A season that began in a haze of defeats and frustration ended with sticks, pads and helmets scattered on the ice at Utica Memorial Auditorium in celebration of an impossible dream brought to life.
Yes, it's true - the CBA/Jamesville-DeWitt ice hockey team is state Division II champions, having taken the last step in typically dramatic fashion as it rallied in the third period to beat John Jay-Cross River 4-2 in Sunday's state title game.
"It was a complete effort," said CBA/J-D head coach Mike McKie. "Two schools came together, and so did the players and coaches. It was a lot of hard work, with kids never giving up and finding ways to win."
One of those players, goaltender Tim Decker, admitted that, after a 1-6 start, the mere notion that the Brothers could get a state championship was ridiculous.
"I knew we were skilled and had determination," he said. "But I didn't think we'd make it this far. It's just amazing."
Tournament MVP Braeden Doust put it another way. "It's almost indescriable, the best feeling in the world," he said.
Given all the elements, on and off the ice, that surrounded CBA/J-D's post-season odyssey, it only figured that the last hurdle involved yet another late-game rally.
The Brothers and John Jay-Cross River, the Section I champion also going for its first state championship, were tied 1-1 when, in the closing moments of the second period, the Indians' Jack Grimm got a solo breakaway and beat Decker for the go-ahead goal.
So at intermission, the Brothers trailed 2-1, but that was half the deficit it overcame in the state semifinal against Beekmantown, and McKie reminded them of that fact and got ready for the final - and decisive - 15 minutes.
"They looked a little down," said McKie. "But I told them that we've been in this situation before, and if we get that first goal, we'll get the momentum back and we're going to be champions."
(Continued on Next Page)
Prev Next
Vote on this Story by clicking on the Icon