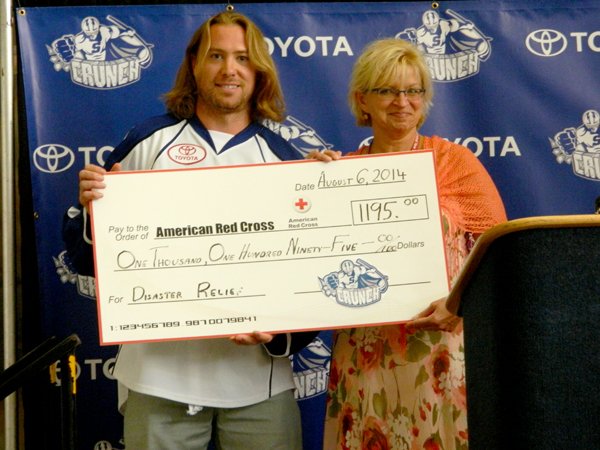 SYRACUSE — In the wake of the tornado and severe storms that hit Central New York on July 8, the Syracuse Crunch recently raised more than $1,000 for the American Red Cross through a jersey auction fundraiser. The money raised will go to the American Red Cross Disaster Relief Fund, which will be used to help provide shelter, food, emotional support and other assistance for victims of future disasters.
Authentic blue road jerseys of players Jon DiSalvatore, Eric Neilson and Mark Barberio were auctioned off on the Crunch's official website to bidding fans on July 17. The three jerseys raised $1,195.
Neilson, whose jersey sold for $390, the highest of all the three jerseys, represented the Syracuse Crunch in awarding the American Red Cross with the donation during an Aug. 6 press conference at the War Memorial Arena in Syracuse.
"The Crunch and the people that play for the Crunch are firm believers in supporting people in need, and helping people in need," said Neilson, who won the 2013-14 Yanick Dupre Memorial Award presented to the American Hockey League player who best exemplifies the spirit of community service. "Any time we're in a position to do that, even if it's something so small as donating a jersey or a little bit of money like that, we feel pretty good and we feel like we're making a difference and doing the community good."
The check was accepted by Rosie Taravella, the chief executive officer of the American Red Cross Central New York Region. Taravella said the Red Cross will use the money to buy needed materials for preparation of future disasters and train volunteer for disasters. The Crunch's donation shows that the community recognizes what the Red Cross does and sometimes inspires other people to give to the cause, Taravella said.
"It's always a wonderful thing when the Red Cross is supported by a well-known organization. When an organization like the Crunch step up and someone as charismatic as Eric is willing to go out and say, 'Hey, I'm willing to do this for my neighbors,' [it's great]... The Crunch's support helps to raise the visibility of [the Red Cross]."
(Continued on Next Page)
Prev Next
Vote on this Story by clicking on the Icon