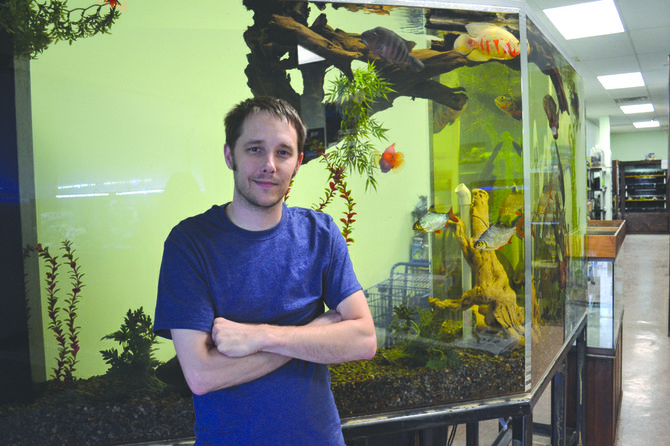 East Syracuse — Many people believe that every kid should have a dog. Chris Fowler, co-owner of Fish FINatics pet store in East Syracuse, believes that every kid should have a fish.
"I don't disagree with the dog statement, and I even have my own dog, but with dogs there's more responsibility, more potential for harm if the kids are too young," he said. "With fish, there's a wide variety that can fit anybody. You can have a small fish bowl with one fish in it, or a 100 gallon tank with lots of big fish in it. There are so many options that there's really something for everyone. And I've yet to meet a 5 year old that doesn't like fish."
Fowler was born in Florida but relocated to the Central New York area at an early age. He returned to Florida somewhat regularly to visit family, which is where his interest in fish was spurred.
"Reptiles were one of my first passions because they're all around down there," Fowler said. "And I would go snorkeling and go to the beach all the time, which is where I was first introduced to all different types of fish."
And although Fowler has had pet fish for most of his life, he didn't keep them seriously until he was about 20, when he purchased his own tank for his cichlid fish. "I became obsessed – I learned as much as I could and read every book I could," he said.
Fowler started working at Petland in Cicero when he was 24, where he would work for the next seven years, running the fish department. He loved the job – Fowler said he learned more about fish care every day from the work he did cleaning and setting up tanks for customers.
During this time, he had one customer who encouraged him to go out on his own and start his own fish store, and when the time was right, he did. Last summer, Fowler left his job at Petland to open Fish FINatics, which he co-owns with fellow ex-Petland employee and fish enthusiast Tom O'Connor.
(Continued on Next Page)
Prev Next
Vote on this Story by clicking on the Icon