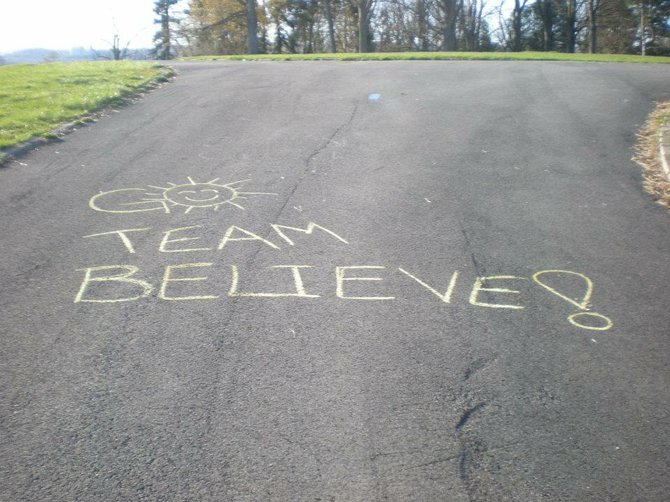 Liverpool — Running a 10-mile race is a tremendous challenge.
But if you've got the right motivation, those 10 miles can feel like nothing at all.
That's the idea behind Team Believe, a grassroots organization that brings together local runners to help the Central New York community. The group, which got its start in 2009, asks participants to help raise money for local children's charities while training for the Dunn Tire Mountain Goat Run in Syracuse in May.
"We are a charitable organization with a running problem," said Team Believe Executive Director Laurie Davis. "We draw people in with a run, and they come back year after year for the camaraderie."
Davis said the group got its start through random discussions six years ago.
"We were all raising money, but zero dollars of it were staying in our own community," she said. "Our founder, Dave Bartell, wanted to raise money and help people locally. Running is a huge part of our community, so he wanted to incorporate the two. So we decided to pull together and see what we could do."
A year later, Team Believe formed an executive board and set a goal to train for the Mountain Goat, raising money for the neonatal unit at Crouse Hospital.
Since then, the team has grown exponentially. It now features a roster of about 180 members and raises money for six local charities.
"We recruit through word of mouth," Davis said. "We have 10 people on the board, and we tell them to invite five friends. We publicize through Fleet Feet. We're the only recognized charity of the Mountain Goat, so we get prime space there. People see us and they ask what we're all about. Friends invite friends to come back next year. It's literally a grassroots organization."
In order to participate, members are asked to fundraise or donate $125 (though larger donations are encouraged). In return, members receive a comprehensive team program designed to help runners complete the 10-mile Mountain Goat course (participants can also choose to do a 3K fun run/walk). The program includes training schedules for beginner, intermediate and advanced runners; weekly group runs; training clinics to learn how to improve your technique and prepare your body for race day; and group social activities. Also included are the race entry fee, a team racing shirt and a team tent and baggage check-in on race day. The team trains at Onondaga Lake Park in Liverpool beginning in late March or early April, as well as the hills in Thornden Park.
(Continued on Next Page)
Prev Next
Vote on this Story by clicking on the Icon