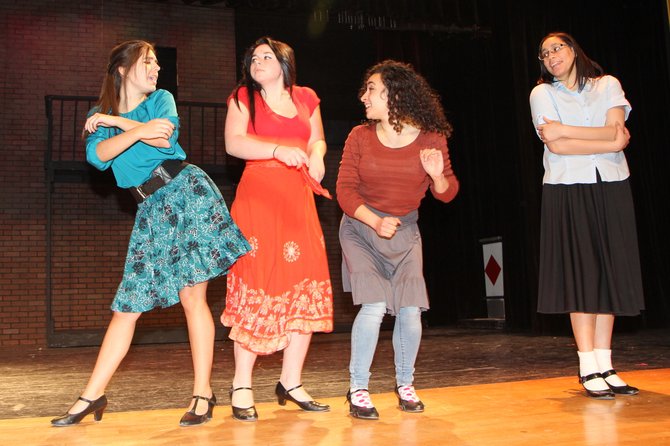 East Syracuse — Featuring stunning choreography, East Syracuse Minoa Musical Theatre will perform the 1950s musical "West Side Story" Feb. 6 through 8 in the ESM Central High School auditorium. Tickets are $9 each. The show will be held at 7 p.m. each night and there will be a Saturday matinee at 2 p.m.
This is the iconic story of two rival gangs trying to protect their territory and "family" in New York City. The gangs are the Sharks, who are Puerto Rican immigrants vs. the Jets (primarily Irish and Polish Americans). It is a modern interpretation of Romeo and Juliet as it is prejudice and racism that keeps Maria, a Shark, and Tony, a Jet, from being together.
The relevance of this story in today's world makes it a classic theatrical piece. Based on the book by Arthur Lalurents with music by Leonard Bernstein, popular songs include "I Feel Pretty;" "Tonight;" "America;" "One Hand, One Heart" and "Maria."
Maureen Natali is the director/producer, Steve Culhane is the pit orchestra director and Adam Shatraw is the vocal director, while ESM student Phoenix Merritt is the assistant director. Kevin Oliver is in charge of set design/construction. Angela Saturno is choreographing and Debra Ritchey of CNY Costumes is in charge of costumes.
Four ESM faculty members will play the adults in the show. Keith Ward will play Doc, Thom Bailer is Officer Krupke, Jeff Schweiller is Lt. Schrank and Joe Musolino takes on the role of Glad Hand.
The cast includes Jets gang members: Zach Glanton as Riff; Marshall Pokrentowski, Tony; Tristan Briggs, Action; Eric Sognefest, A-Rab; Zack Worden, Baby John; Shawn Fleming, Snowboy; Robert Schill, Big Deal/Diesel and Adam Jones, Gee-Tar.
Jet girls are Kelsey Hall as Graziella; Helaina Brundage, Velma; Elena Ravera, Minnie; Riley Simone, Clarice; Caroline Krukowski, Pauline and Grace Bousquet, Anybodys.
(Continued on Next Page)
Prev Next
Vote on this Story by clicking on the Icon