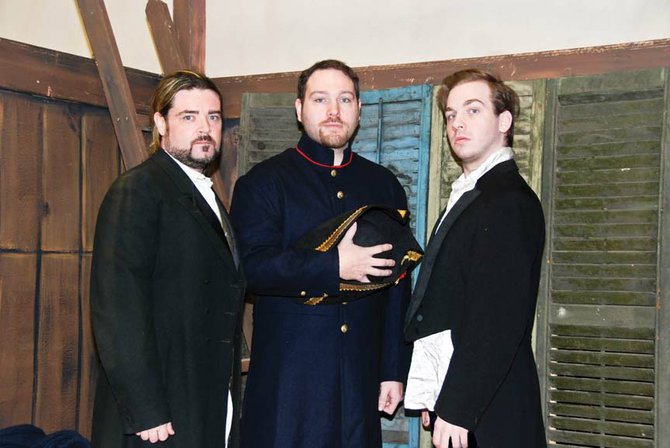 Few musicals engage the mind and excite the senses as does "Les Misérables."
Even more rarely does a community theater group expertly blend the epic story, the grand spectacle and the soaring music to deliver a seamless and sensational show. Director Korrie Taylor, music director Abel Searor and producers Mark and Sandy Baker, however, have done just that with the current Baldwinsville Theatre Guild production of "Les Mis," running through Feb. 8.
This "Les Mis" is truly luminescent.
The bright lights begin with Henry Wilson as Jean Valjean, the unjustly imprisoned French peasant who, after earning his release from prison after 19 grueling years, rises to a position of power and influence in 1830 Paris. A gifted vocalist who shifts effortlessly from a full-bodied baritone to an ascending falsetto, Wilson does much of the show's heavy-lifting, both literally and figuratively. The entire cast of 36 performers, however, remain in harmony throughout the two-act, three-hour performance of the operetta based on Victor Hugo's 1862 novel.
The harmonious flow of this challenging all-sung script is a testament to Korrie Taylor's talent for casting, pacing and blocking. There is nary a misstep anywhere in this "Les Mis."
But Taylor had help, notably from her husband, BTG veteran Josh Taylor. He plays the thieving Thenardier and it's a perfect role for him as his character snarls sarcastically while snatching wallets and watches.
The director's husband did her an even greater favor, however, by designing a simple, compact set that still managed to convey the breadth of the story and the zeitgeist of the period. He did it with a rear-projection screen placed at centerstage amid a patchwork of dusty old shutters and wood and rope and railings!
The screen programmed by Jason Maurer sets scenes, informs about the passage of time, and – best yet – projects images that change to fit the specific setting be it a factory, a brothel or the cobbled streets of Paris.
(Continued on Next Page)
Prev Next
Vote on this Story by clicking on the Icon