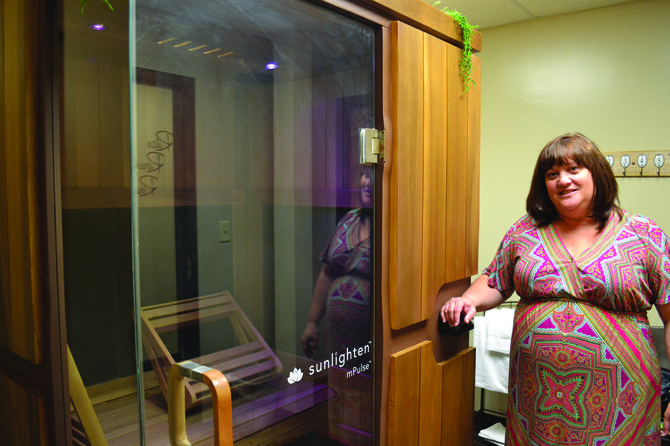 Manlius — There's a new holistic healing technique sweeping the United States, and Renee Greco, one of the owners of Cure Infrared Sauna Spa, knows it's more than just a fad.
Infrared saunas are similar to your typical sauna, but without the steam and thickness in the air. Instead of heating the air around you, infrared saunas heat you from the inside out, causing body temperature to raise at least two degrees, Greco said.
"By raising your body temperature, it keeps your blood circulating, opens your veins and allows the blood to get to places it normally doesn't get to," she said. "They're the same infrared lights used on newborns in the nursery. The way it heats your body up from the inside is almost like a microwave effect, but totally safe."
If you're skeptical about this process, you're not alone. Greco said many of the people who come in are hesitant to get in because this healing practice is somewhat new to the United States. The first-ever saunas were created in Finland, where steam vapor was generated by splashing water onto heated rocks. The Finnish also used the sauna as a location to cleanse the mind, refresh the spirit and prepare the dead for burial. The sauna was a key part of their daily lives and families used it to bath together within the home, according to jashbotanicals.com.
When the Finnish began to travel to other parts of the world, they introduced these cultures to the pleasures and health benefits of saunas, which then lead to further evolution of the design. This led to the invention of infrared saunas in the last several decades.
Infrared saunas use infrared heaters to convert light into heat. This heat warms nearby objects without raising the air temperature, so that a bather in an infrared sauna absorbs heat but the surrounding air does not. "It helps with rheumatoid arthritis, Lyme disease and fibromyalgia and it also helps lower blood pressure and helps with diabetes by opening the veins for circulation and allowing the blood to heal and keep things running like they should," Greco said.
(Continued on Next Page)
Prev Next
Vote on this Story by clicking on the Icon