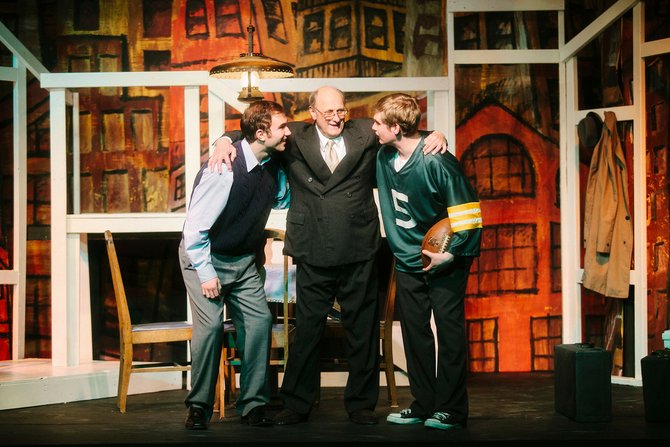 DeWitt — Arthur Miller's "Death of Salesman" is not for the faint-hearted. Audiences should prepare themselves for three hours of intense drama as the story of washed-up traveling salesman Willy Loman unfolds onstage through March 22, at the CNY Playhouse at ShoppingTown.
Initially published in 1949, "Death of a Salesman" depicts a dysfunctional family even though they weren't called that in the relatively innocent post-war era. No, the Lomans were just another average family living among thousands of others, a struggling family plagued by a few shameful secrets and plenty of dashed dreams.
First-time director Kasey McHale has assembled a capable cast led by Keith Arlington as Willy, Kate Huddleston as his faithful wife, Linda, J. Allan Orton as troubled son Biff and Patrick Kelly as womanizing son Happy.
The supporting cast includes Bill Lee as Willy's brother, John Krenrich as Willy's boss, and William Edward White as Willy's departed brother, Ben, who walked into the jungle at age 17 and walked out of it a rich man at 21.
Costumer Barbara Toman has outfitted Ben with a shimmering white three-piece suit, black tie with green turtle tie-clasp, and a floppy panama hat with a black band. White, who's a naturally big man, looks and sounds a bit like Big Daddy from "Cat on a Hot Tin Roof."
Rounding out the cast are Frank Natera, Colleen Deitrich, Sarah Anson Rauscher, Breona Courcey and Colleen Creeden-Baldwin as "The Woman."
Austin Arlington, the actor who plays nerdy Bernard – who was supposed to help football star Biff pass math – is the real-life son of Keith Arlington who plays the lead, Willy Loman. Father-and-son actors have a particularly good scene together toward the end of Act 2.
Set designer and detail painter Navroz Dabu created a spectacular backdrop for this "Death." Geometrically helter-skelter, the brick-colored high-rise tenements oppressively overshadow the Loman's humble home represented by two tiers of white two-by-fours.
(Continued on Next Page)
Prev Next
Vote on this Story by clicking on the Icon