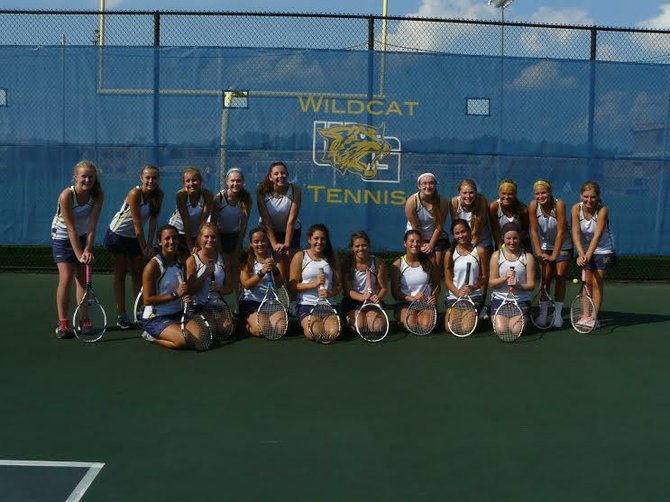 Manlius — Someone, somewhere was eventually going to end the Fayetteville-Manlius girls tennis win streak that stretched out over 21 years and covered 329 consecutive matches. And West Genesee was all too happy to be the side that pulled it off.
Playing on F-M's courts Wednesday afternoon, the Wildcats, buoyed by its strong doubles teams, defeated the Hornets 4-3 and, by doing so, brought to a conclusion a string of victories that was, unofficially, the longest in American high school team sports.
The last F-M loss had come all the way back in 1993, when Liverpool earned its own 4-3 victory over the Hornets. From there, the wins piled up, and so did 21 consecutive Section III titles, plus back-to-back state championships in doubles for Kaitlin Englert - paired with Kristin Greiner in 2003 and Sallie Crawford in 2004.
Not long ago, F-M head coach Phil Rudolph said that someone was going to eventually catch his team, but that the quest to do it put more pressure on the Hornets' opponents since all of them wanted the fame and glory that came with that feat.
West Genesee, of course, was one of many F-M opponents that had come close over the years. But on this warm, sunny late-summer afternoon, everything aligned for the Wildcats.
And that included some impressive doubles victories. Mikayla Mannara and Abigail Thurston defeated Catarina Westergaard and Marissa Broddus 6-3, 6-4, while Kelsey Shanahan and Elena Kopp got a 6-1, 7-5 victory over Mary Trop and Abby Welker. Kayla Llanos and Mary Frontale got past Shannon Fullam and Kristina Liu.
In the pivotal doubles match, WG seniors Taylor Ginestro and Marisa Joyce lost their first set to F-M's tandem of Madison Jordan and Olivia Wojonvich, only to take a close second set and dominate the final set in a 4-6, 6-4, 6-0 victory that helped create history.
(Continued on Next Page)
Prev Next
Vote on this Story by clicking on the Icon