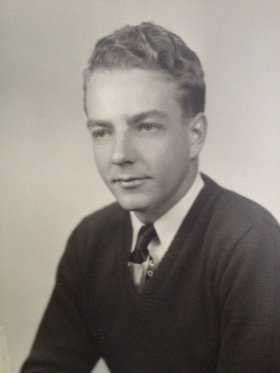 Leon Pease, Jr.
unknown - February 1, 2013
Leon Earl Dwight Pease, Jr., 86, of Manlius, passed away on Friday, Feb. 1, 2013. He was born in Springfield, MA on June 6, 1926. Lee's father was a city firefighter and the family lived in a house right across the street from the fire station. This allowed Lee, his sister Louise and his mother Sadie to be close to Leon Sr. so they could see him often when he was working.
During high school at the tender age of 16, Lee met his high school sweetheart, Betty. Their first date was at an ice skating rink where things must have gone very smoothly as they were later married. After high school Lee joined the Navy and traveled the Pacific during WWII. After the Navy, Lee attended the University of Massachusetts where he received his BS in Chemistry. He continued on to earn his MS in Chemistry from Northeastern University in Boston. Lee was a published member of the American Chemical Society. He enjoyed metal and woodworking as well as being an amateur radio operator.
Lee and Betty moved to Manlius, when he took a job as a metallurgist with Roth Brothers Smelting. Sadly, Lee lost Betty in 1979 but found love again with Kay, his second wife. After retirement Lee and Kay moved to Florida and had the opportunity to travel in their RV. Lee also built his own sailboat and the two would take day trips on nearby waters.
Retirement also allowed Lee to reconnect with the flying he loved. He again earned his pilot's license and was able to return to the sky once again flying planes.
He is survived by his children, Beth (Douglas) Tracy and Edward (Janet) Pease as well as his grandchildren, Evan and Sean Pease and Laura and Tyler Tracy.
Calling hours: 6 to 8 p.m. Tuesday, Feb. 5 at Newell-Fay Manlius Chapel, 8171 Cazenovia Road (Route 92) Manlius. Burial will take place in Somers, CT.
For directions, florists, or a guestbook, please visit online: scheppfamily.com. Arrangements by Newell-Fay Manlius Chapel of Schepp Family Funeral Homes. Contributions may be made to the American Cancer Society, 6725 Lyons Street, P.O.B. 7, East Syracuse, N.Y 13057, in honor of both his wives, whom he lost to cancer.