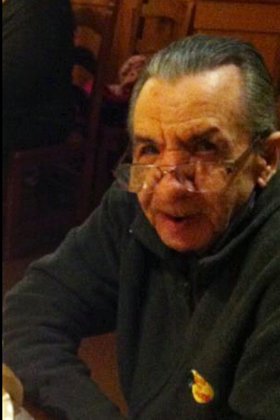 James E. Hillegus, Sr.
unknown - January 17, 2013
James E. Hillegus, Sr., 68, of Manlius passed away peacefully Jan. 17, 2013, at St. Joseph's Hospital. James was born in Syracuse, the son of the late Augustus and Alveda Hillegus. He lived in the Syracuse area for most of his life and was an avid car enthusiast. He was a loving husband, father, grandfather and great-grandfather.
He is survived by his wife of 50 years, Helen; children, Clifford (Cheryl) of Virginia, Alveda (Mark) Zahn of Chicago, Lynda Vercillo of Baldwinsville, Jayme (Keith) Dougherty of Manlius and James Jr. (Anne Marie) of Auburn; sister, Mary Nichols of Liverpool; 16 grandchildren; 17 great-grandchildren; and several nieces and nephews.
Mass of Christian Burial: 11 a.m. Monday, Jan. 21 at St. Ann's Church, 104 Academy St., Manlius. Calling hours: 2 to 5 p.m. Sunday, Jan. 20 at Newell-Fay Manlius Chapel, 8171 Cazenovia Road, Manlius. For directions, florists, or a guestbook, please visit scheppfamily.com.