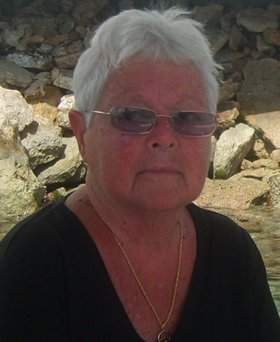 Marilynn Goode
unknown - January 16, 2013
Marilynn Fiore Goode passed away on Wednesday, Jan. 16, 2013, at her daughter's home with family by her side, after a brief illness. She was born on Sept. 13, 1936 in Fulton, the daughter of Hazel and James Fiore.
She had recently moved back to Syracuse from Myrtle Beach, S.C., where she enjoyed residing for the last few years. She graduated from Fayetteville Manlius High School, where she enjoyed her sorority and field hockey. She enjoyed reminiscing with her family and entertaining friends. She was retired from the American Red Cross.
She lost the love of her life Jerome, after 50 years of marriage in 2008. She is survived by her children Kathleen (Patrick) Weston of Connecticut, James Goode of Liverpool, Colleen (Christopher) Owens of Georgia, six grandchildren and one great-grandson. She is also survived by her brother James Fiore of Wisconsin, brother and sisters-in-law and many nieces and nephews. She was predeceased by her sister Barbara Chamberlin.
Mass of Christian burial: 10 a.m. Monday, Jan. 21 at Holy Cross Church, 4112 E. Genesee St., DeWitt, with burial following in St. Mary's Cemetery in DeWitt. Calling hours: 2 to 4 p.m. Sunday, Jan. 20 at Eaton-Tubbs Fayetteville Chapel, 7191 E. Genesee St., Fayetteville. For directions, florists, or a guestbook, please visit scheppfamily.com.