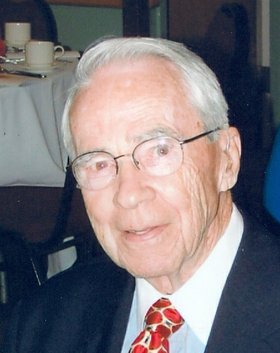 John J. O'Neill, Jr.
unknown - January 20, 2013
John J. O'Neill, Jr., 94, a resident of the Maplewood Assisted Living, Canton, N.Y., passed peacefully Sunday, Jan. 20, 2013, at the Claxton Hepburn Medical Center, Ogdensburg, N.Y., from complications of Parkinson's disease. Jack, as he was known, was born in Syracuse on Nov. 19, 1918, son of John J. and Anna Korthas O'Neill.
He was a member of the first first grade class at Saint Anthony of Padua School. He was a 1937 graduate of Christian Brothers Academy where he was captain of the football team during his senior year. A walk-on at Notre Dame University, he played first string guard on the freshman football team. During 1938 spring training Varsity Coach Elmer Layden invited Jack back as a varsity guard. He returned home to 155 East Matson Ave. excited, only to find out football was no longer an option financially. He gained employment at Continental Can at night, allowing him to attend Syracuse University's L.C. Smith School of Engineering; becoming a proud 1943 mechanical engineering graduate.
His employment included being a Pan American and U.S. Navy flight engineer aboard a Boeing 314 Clipper Ship stationed at Botwood, Newfoundland, U.S. Navy, Alameda, CA, Bell Aircraft, Buffalo, Easy Washing Machine Company, Syracuse, NY Airbake, Watertown, and Blackstone Corporation, Jamestown, N.Y. While on duty in California he and a group of Naval officers, with flying boat experience, were led through the Hugh's H-4 Hercules "Spruce Goose" for comment.
He married Doris Bauer Jan. 8, 1949 in Syracuse. Surviving are their four sons: John P. of Sea Ranch Lakes, FL, daughter-in-law Mary of Sea Ranch Lakes, FL; Don P. (Sue) of Canton, NY, Dennis M. (Nancy) American Canyon, CA and Kelley J. (Teresa) of Ashville, NY. Also 11 grandchildren and 11 great grandchildren.
He was preceded in death by his wife, Doris, the love of his life; brother Paul F. O'Neill; and sister Anna Catherine Tobin. Jack and Doris enjoyed being with and seeing their children grow up on the St. Lawrence River and Chautauqua Lake.
Services: 10:45 a.m. Saturday, Jan. 26 at Eaton-Tubbs Fayetteville Chapel and 11:30 a.m. at Holy Cross Church, 4112 E. Genesee St., DeWitt. Burial will be in St. Mary's Cemetery, DeWitt. Calling hours: from 4 to 7 p.m. Friday, Jan. 25 at the funeral home, 7191 E. Genesee St., Fayetteville. Memorial contributions may be made in lieu of flowers to the Diocese of Ogdensburg, 622 Washington St., Ogdensburg, NY 13669 for the hospital ministry in the name of Fr. Joseph Morgan or a charity of your choice. The family wishes to acknowledge our appreciation of Father Joseph Morgan's vigil, not only for Jack, but also his attending family during Jack's final two weeks. The family also wishes to thank The Maplewood and Claxton Hepburn Medical Center for their professional and loving care.
For directions or a guestbook, please visit scheppfamily.com. Arrangements by Eaton-Tubbs Fayetteville Chapel of Schepp Family Funeral Homes.