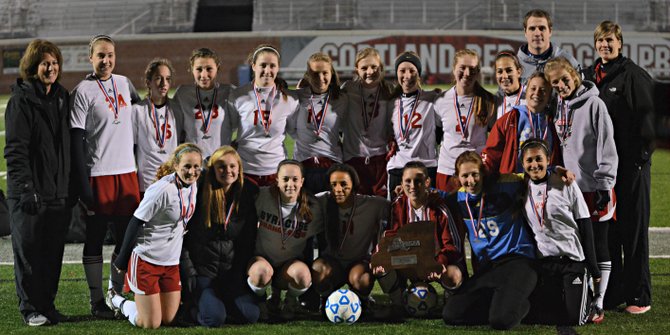 Jamesville-DeWitt's girls soccer team with the second-place championship plaque after Sunday night's state Class A final. Though the Red Rams lost to Long Island power South Side 2-0, it still progressed further than any team in the program's history, and did so with only two seniors (Maddy Devereaux and Jessica Holmes) on the roster.
Stories this photo appears in:

South Side claims 17th state title over J-D, 2-0
What was already a historic season for the Jamesville-DeWitt girls soccer team would feel complete if it could claim a first state Class A championship. But an opponent with a trove of titles to its credit, South Side, prevented the Red Rams from realizing its ultimate dream, prevailing 2-0 in Sunday's Class A state final at SUNY-Cortland.